Five Easy Steps To Start Your Prayer Life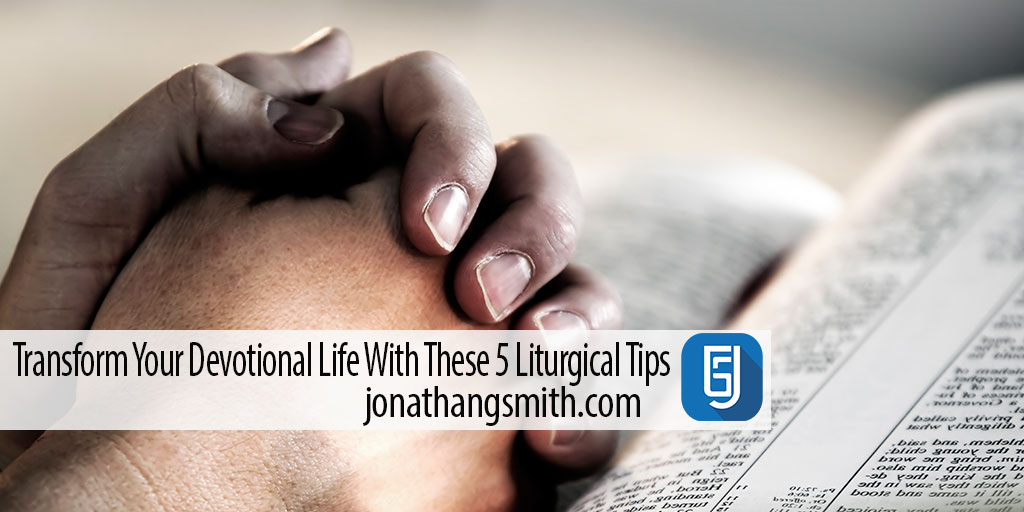 Devotional life can sometimes seem mundane and even meaningless, especially with life's hectic pace. That's why incorporating liturgy into your prayer life can be an excellent way to cultivate deeper, more intimate times with the Father.
In this follow-up to my previous post, How Liturgy Transformed My Prayer Life, I want to give you some practical tips on how you can start incorporating liturgical practices into your daily time with the Father. But first, let me share with you how I came to this simple liturgy.
Devotional Burnout
Several years ago after I had become an ordained minister, I entered into a time of devotional stagnation. I was in the throws of work and life not aware that my prayer life was slowly tanking. Something was amiss in my life, but I  couldn't put my finger on it. Desperate for an answer, I reached out to my pastor to describe my problem. I'll never forget how he responded.
"Jonathan, I'm not sure how to help you specifically, but I can tell you about a talk I recently heard on pastors who experience burnout. When researchers interviewed burned-out-ministers, many of them had one thing in common — they had neglected their prayer life." His words were like a cold shower waking me up to brutal reality. I was ignoring God.
Feeling desperate and longing for a deeper intimate relationship with the Father, I asked him how to begin. He said, start with our Prayerbook.
At first, I dived into the deep end of the liturgy. But the many of the services were designed for corporate experiences and not individual devotion.  So I began to do some experimentation. After playing with different patterns, I finally settled on this model.
A Gospel-Centered Approach
So here are five suggestions to help you shape your devotional time.
#1 Start with the Lord's Prayer.
This prayer is Jesus' example of how to approach the Father but terribly neglected by many evangelicals. Many advocate using it as an outline. But when your life is a mess, just reciting the Lord's Prayer is sufficient. Remember, Jesus gave us this prayer as the answer to his disciple's request to teach them how to pray.
#2 Incorporate a Prayer of Confession.
Every week my congregation prays the same prayer of confession. The power of repeating a prayer is that it sinks into the brain.
Very often when I feel the weight of sin in my life, I like to pray this prayer because it forces me to acknowledge the impact of sin in every area of my life – thought, word, and deed. That is all encompassing.
The following is the prayer we use at Redeemer. I have personalized the wording for private use.
Most merciful God, I confess that I have sinned against you in thought, word, and deed, by what I have done, and by what I have left undone. I have not loved you with my whole heart; I have not loved my neighbors as myself. I am truly sorry and I humbly repent. For the sake of your Son Jesus Christ, have mercy on me and forgive me; that I may delight in your will, and walk in your ways, to the glory of your Name. Amen.
#3 Embrace the Words of Assurance.
If you use a prayer of confession, be sure also to use an accompanying prayer of assurance. While guilt and shame are the necessary effects of sinful patterns in our lives, we must realize that because of Christ we have the assurance of forgiveness. We need to pray the words of assurance to receive it in our hearts.
Here are the words from An Anglican Prayerbook personalized for private use.
"Merciful God, grant to me your faithful child pardon and peace; that I may be cleansed from all my sins, and serve you with a quiet mind; through Jesus Christ our Lord."
Conclude this section with this comforting and encouraging verse.
Father, I draw comfort from your biblical promise that "If we confess our sins, he is faithful and just to forgive us our sins and to cleanse us from all unrighteousness" I John 1:9.
#4 Petition the Father for all your needs.
Believe it or not, Jesus instructed us to bring all of our needs to the Father. Confident in the gospel promise of forgiveness and the declaration of righteousness, ask the Father for your needs.
"Give me my daily bread…" 
Then ask him for your needs and requests for the day.
#5 Proclaim Christ as your Lord.
We are encouraged to relate to Jesus in a personal way. But remember, He taught us that our prayers need to be directed to the Father – teaching us to start by saying, "our Father" and not necessarily, "dear Jesus." We must confess that it is only through Jesus that we can approach the Father.
To acknowledge this profound truth, I like to conclude my prayers with this phrase,
"In the name of Jesus Christ, our Savior and King, Amen."
We pray to the Father through Jesus Christ.
This version is my variation on the closing of most Anglican prayers – "through Jesus Christ our Lord." They are interchangeable. The point is to follow the pattern of prayer taught to us by Jesus, our Lord.
The Ultimate Goal
As you build on this simple outline, remember the goal of incorporating liturgy into your prayer life is to cultivate a deeper sense of God's presence. These are not magical words but simple truths to shape your time with the Father.
Liturgy can be a powerful way to incorporate the Gospel into everyday life.  So try it for a month and see if these devotional prayers can work for you!