Pray for Orlando, Finding Hope After the Pulse Shooting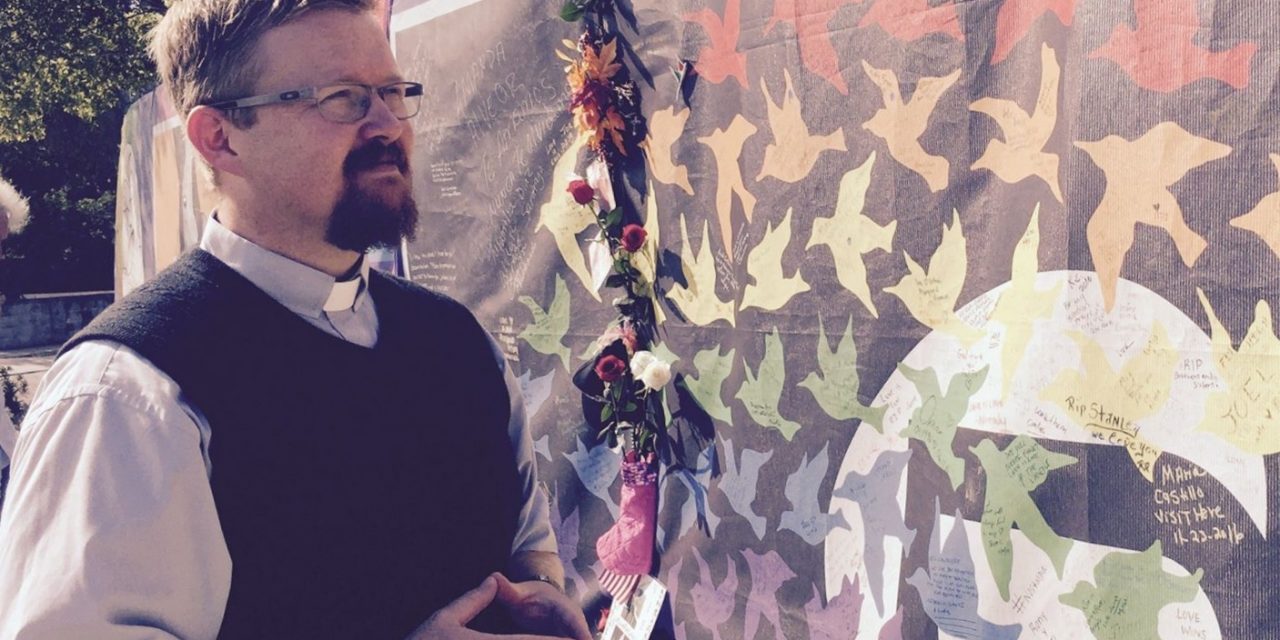 On Sunday morning at 8 am, a parishioner alerted me to breaking news — a gunman had opened fired at a local gay club in Orlando and murdered at least 20 people. By the day's end, it would crest over 50.
Like so many, I was shocked, terrified, and couldn't think of what to say. My only thought, at that moment, "God, I hope he's alive." And, then, almost robotically, I moved on with my duties at mornings services. Six hours would pass before I had the chance to verify whether or not the member of my family was alive.
Orlando Shooting
Thank God he was. But many of his friends were not. By the afternoon, he would learn that he had lost at least six friends in Sunday morning's brutal attacks.
By Sunday evening, I found myself extremely agitated, anxious by the day's events. Phone calls were coming in inquiring about my family and parishes wellbeing. I was grateful but disoriented — trying to make sense of it all.
While the scale of it all pales in comparison to the events of 9/11, I can't help but reflect on the similarities. I found myself shocked, unable to respond trying to make sense of the human carnage. This time, I had a loved one who by God's grace was spared from the slaughter but undoubtedly personally affected by that night's events. You would think that after all we as a nation have endured that responding to violence would be easier. But I now realize that it's never easy. Never.
Lord, have mercy.
Finding Words
As the sun finally set Sunday night, I continued to be bothered by one single question, "how do I respond?"
My first response is to begin with thanksgiving with the words of Psalm 18:48, "you rescued me from the man of violence." Here the Psalmist recognizes God's mercy at work when the assassins bullets fail to reach their intended targets. At least for my family member, the Lord providentially spared him and our family from the devastation. But I can see how that doesn't bring comfort to everyone.
What about those who were not spared by the hands of the gunman? When the news first broke anxiety followed by confirmation of their fears — the loss of their loved one — inevitably tore many apart. Shock and grief followed by anger and demands for justice are just natural responses. But sadly, in the end, they do not bring back those who lost their lives or loved ones.
Christ, have mercy.
The Loss of Innocence
Orlando, the City Beautiful, will go on, but its story will forever change.
No longer is it just the land of Mickey Mouse, but like so many other cities across our world, a place where innocence has been lost. We've been violated by the hands of terror. The act of a single individual motivated by a theology of violence and hatred robbed us of our innocence, shaking us loose from naively thinking "It won't happen to us."
Years ago, when I attended business school, I remember my accounting professor saying. "Don't worry about a terror attack occurring in Orlando. There is too much money going overseas." Those words seem empty now. Sunday's events sadly point to the reality that evil is fundamentally irrational, knowing no boundaries to its effects and preying upon everyone, even itself. We should never underestimate evil, but we should not be dictated too by it.
Where, then, is there hope? As a Minister of the Gospel, I can only point you back to one source of real hope, the Lord Jesus Christ whose life, death, and resurrection provide the only source of meaning and purpose in a world fractured by the dark shadows of evil intent. Through faith in Him, we have access to the love of God who looked down on this world of darkness and sent his son, as an ambassador of light, to show the world the true love of God our Father. It is only through real, genuine love that our city will ever find healing from this atrocity.
And unlike the god of Sunday nights shooter who demands that lives be sacrificed in his name, the God of the Bible took upon himself the humiliation of death so that we may have the abundance of life. Here lies the contrast between the God of the Bible and all other gods of this world, the insistence of life triumphing over death. And we look forward to the day when the Lord God returns and promises to "wipe away every tear" and bring in an end to death itself (Rev. 21:4). Until then, we can only say, "Come Lord Jesus."
Lord, have mercy.