Never Underestimate the Power of Prayer – A Lesson I Learned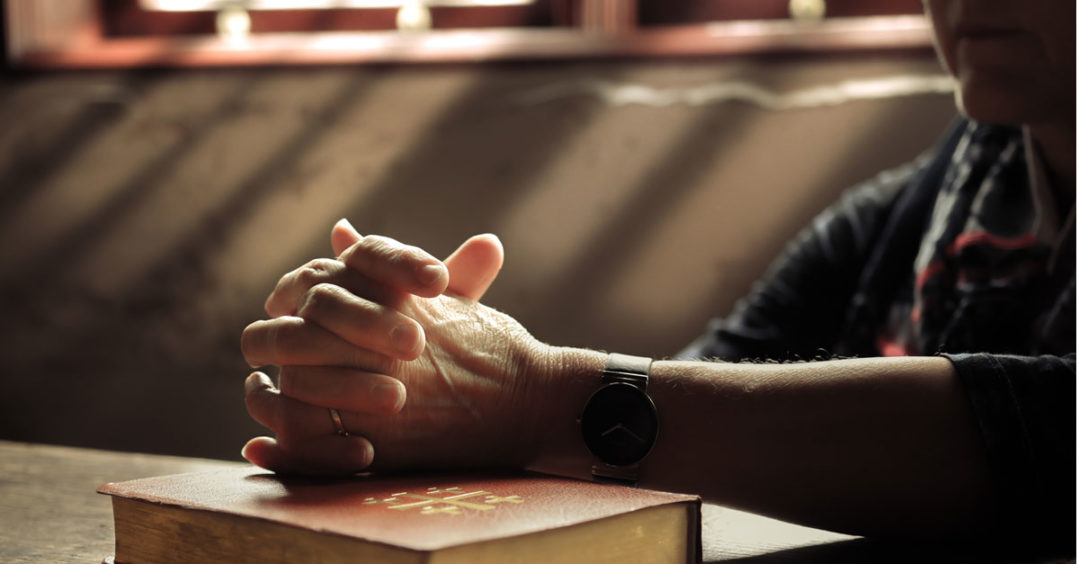 If you could walk away from the year and say, "this was my #1 lesson," then what would it be? My answer to this question is simple. I've re-discovered the power of prayer.
Does that seem too simplistic? Too pastoral? Perhaps, but let me ask you a straightforward question. If prayer is so simple, then why is it so difficult to do? And why do so many Christians neglect it?
My Praying Momma
No matter what life throws my momma's way, her first response is always the same. Let's pray. Just this week she drove over to my house to pray for my wife in person. She could have called and prayed over the phone. But she understands the deeper power of praying together.
I've come to expect it and even have grown to admire her.  And admittedly, my A-type personality has sometimes resented it. "I don't have time to stop right now and pray," I quietly thought. Such thoughts, I'm ashamed to admit, even come from my heart (and I'm a pastor!).
But I've noticed something each and every time we've prayed together. I walk away with a sense of God's peace in my heart.
And over time, I've grown to admire my mother's faith. Regardless of the circumstances confronting our family, her response is always the same. Let's pray.
Prayer and Our Inner Battle
Throughout 2018, I've focused on several areas of my life, disciplining them to submit to a higher purpose. Regardless of my best intentions, however, many of them quickly spiral out of control. Stress and anxiety build up as the complications of multiple responsibilities compound daily life. Then there is the bright red neon sign flashing "hot donuts now" sabotaging my weight loss efforts.
Before I realize it, the "tyranny of the urgent" replaces the "work of the essential."
Part of the problem is the stage of life I find myself. Raising children, overseeing ministries, and faithful pastoring compress my schedule in ways I've never before experienced. Life throws new challenges my way, and there are days where I'm left wondering "what just happened."
As the signs of stagnation begin to appear in my soul, I've noticed something. My joy is lost.
I'm not alone. I've read and heard about this trend far too many times. Kent and Barbara Hughes write about this troubling trend in their book, Liberating Ministry From The Success Syndrome.
In their chapter on prayer, they retell the story of Sidlow Baxter, a 20th-century pastor. Faced with the reality of ministerial overload and the lack of prayer, he identified the absolute source of the problem, his internal conflict. Hughes recount's Baxter's early morning insight:
One morning came a crisis, as he stood over his work-strewn desk and looked at his watch. The voice of the Spirit was calling him to pray, but at the same time another velvety little voice told him to be practical and get his letters answered, that he ought to face up to the fact that he wasn't of the spiritual sort, that only a few people could be like that.
He was horrified by his ability to rationalize away the very ground of his ministerial vitality and power.¹
Baxter's conclusion was that a fundamental conflict existed within his soul. His intellect and will knew that his highest calling rested in the ministry of prayer. His emotions worked against him pointing to all the work that continued to pile up. So Baxter determined to make prayer his highest priority. And he did.
At first, it was painfully awkward, even dreadful. Hughes recounts, however, something began to change in Baxter that shifted his entire experience. He began to feel God in a deeper, more profound way.
Prayer and The Order of Our Lives
All of us face a single decision each and every day. As a child of God, will we go the Father in prayer? What is at stake if we don't? By no means is God's sovereignty thwarted by our lack of prayer. But when we neglect the fount of grace ready for us to drink, we become spiritually dehydrated unable to cope with the exhausting pace of life.
George MacDonald said it best, "Communion with God is the one need of the soul beyond all other needs."² We neglect prayer only to our detriment.
Prayer is foundational to our soul and the source of real power. We will never experience the liberating power of the gospel until we step into that continual flow available to us through the living water that is a relationship with Jesus Christ. So rather than ordering our prayers around our life, we need to order our lives around our prayers. When we do this, Hughes argues, everything changes.
¹'² Kent and Barbara Hughes, Liberating Ministry from the Success Syndrome, 79.