Finding Authentic Joy In the Chaos of Christmas – Advent 3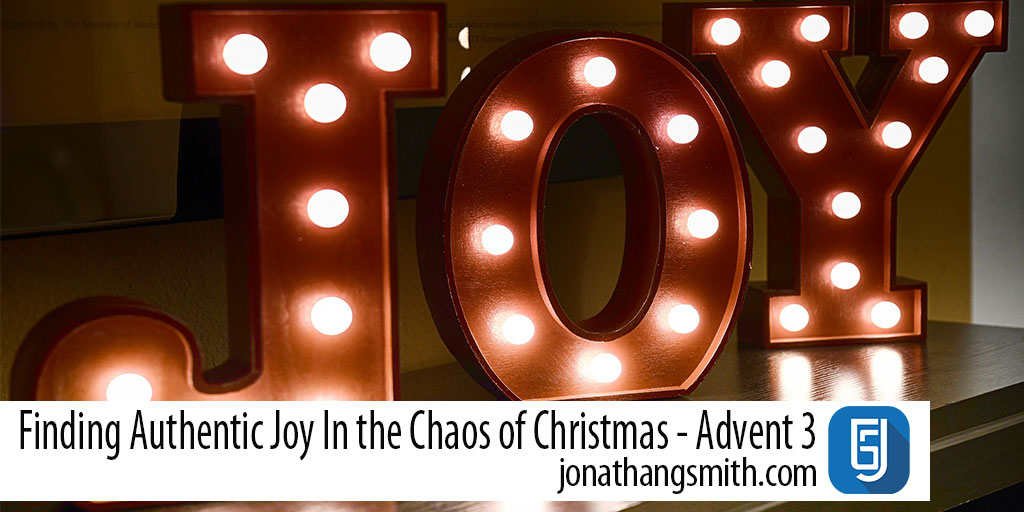 What is joy? I mean what is it really? Every Christmas season we sing "Joy to the World." Through that great hymn, we are taught that our Savior's birth inaugurated a season of joy. However, let me be honest with you, living that out doesn't seem entirely apparent to me. No, it seems to me pure, authentic joy is beyond the reach of our everyday experiences. So is it possible to really obtain authentic joy?
Finding Joy In Life's Simple Pleasures
Some of the most valuable life lessons come from observing my children. That is even true when it comes to ideas like joy.
The other night, I came home with a box of Krispy Kreme strawberry-iced glazed donuts. They are divine. To me, there is no greater pleasure than seeing the red sign flashing in the store's window "Hot Donuts Now!" Whoever thought that up was a genius.
Because I have an ongoing struggle with food and gaining weight, I usually abstain from partaking in that particular delight. But when you have a dozen strawberry Kreme's leftover from the day's church function, it's hard to simply toss them in the garbage.
So I brought them home and shared them with my children. Because I strive to be a decent father, I wouldn't let them have one until after they ate their dinner. So when the moment of Krispy communion finally arrived, the anticipation was all-consuming.
That was especially noticeable in my toddler. After we gave him his portion. He held it in his little hands and smiled from ear-to-ear. You could see the sweet anticipation overwhelming him as he experienced the sacrament of glaze and frosting. Finding words to capture the moment is hard, but joy certainly seems to describe the look on his precious face.
But does this capture the full meaning of joy?
Joy and Feelings
According to the Concise Oxford English Dictionary, joy is a "feeling of great pleasure and happiness." A toddler's first experience with Krispy Kreme can certainly be satisfied by Oxford's insight; however, like the devoured donut, feelings do not last and are often fleeting moments in time.
There have been many experiences in my life where I can honestly say I've had authentic joy. But like the sands of time, they last only at the moment in which they are experienced and usually forgotten.
Therein lies the problem with Christmas. Each and every year, we champion the idea that Christmas is supposed to be a "Joyful Season." And for some folks, they experience the great rush of joy warming the heart.
But when the holidays pass, the cold wind of reality suddenly snuffs out the joy, leaving only the embers of fading memories.
Accepting Oxford's idea that joy is rooted in our emotional state, we can see the subtle trap of narrowing and limiting joy simply to our feelings. I don't know about you, but my feelings are affected by all kinds of things, including the awful holiday traffic. I can experience joy in one moment and anger in the next. So is this really the biblical idea behind Christmas Joy?
Cultivating Authentic Joy
Returning to the night of our savior's birth, let's exam for just a moment the words the angel used to announce the arrival of the Messiah.
Luke 2:10 (ESV) — 10 And the angel said to them, "Fear not, for behold, I bring you good news of great joy that will be for all the people.
Within this verse, the gospel writer Luke links two important ideas — the gospel and joy.
Linking the good news of Jesus Christ's arrival is the expectation that joy will follow the announcement. In other words, Jesus' appearance will satisfy the longing that had been growing in people's hearts. And like my toddler's first taste of a Krispy delight, the arrival of Jesus foster's a feeling that is incomparable.
But is this type of joy a standard for everyday life? In the midst of life's most difficult circumstances James teaches us to "Count it all joy (same word used in Luke 2:10) when you meet trials of various kinds" (James 2:10). So, according to James, when life throws us a curve ball, turns a down a road we least expected or doesn't turn out the way we desire, we are still to count it all joy. Suddenly our definition of joy needs expanding.
Sustaining Joy Over The Course of Life
That leads us to conclude, then, that joy isn't merely an emotion at the moment but a mindset cultivated through personal reflection. IF we can find joy in life's most challenging problems, then that means that joy is far more than Oxford is giving credit. For the Christian, Joy must be based on our hope in Christ's promised return.
So joy is a disposition to life. We can be full of joy because of the anticipation we experience at the promise of Jesus returning to put things, as N.T. Wright says, "in the right." And that is a cause of real, authentic joy.