Finding Real Hope In The Chaos of Life – Advent 1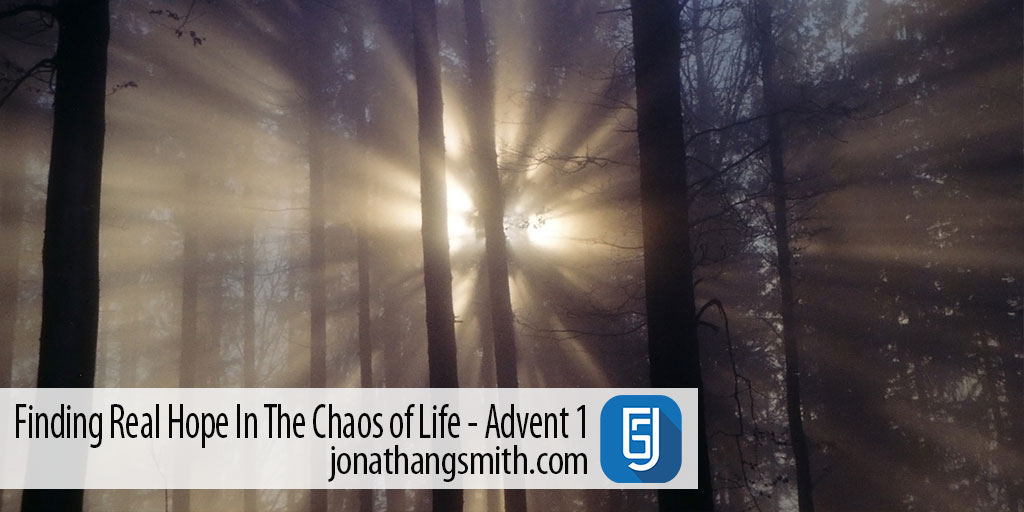 Do you enjoy the "Christmas season?" Or does the chaos of the annual "shopping season" leave a less than desirable taste in your mouth? For many people, this time of year can be the most stressful, leaving some feeling blue and not so full of "holiday cheer." So what is the answer to this perplexing problem? To start, we need to recognize one simple truth about the season. We have bypassed a critical step to Christmas, namely, Advent.
People often ask me, "What was it specifically that attracted you to the Anglican church? Was it the liturgy and ceremony? Was it the robes? Or was it the weekly practice of Holy Communion?"
My answer, none of those things. What first attracted me to the Anglican Church was the observance of Advent.
My First Advent Experience
Years ago, before joining the Anglican church, while working an internship in an evangelical congregation, I was in a staff meeting discussing plans for the upcoming "Christmas Season." Ideas were thrown around almost like darts bouncing off a wall.
I quietly sat there, listening to the other pastors hash out ideas. But nothing bubbled up as the lead. After a few minutes of silence, the senior pastor asked me.
"Jonathan, what do you think?"
I replied, hesitantly, "How about we observe Advent?"
The silence was deafening. So I continued to press my idea.
"It seems to me that Christmas is supposed to be a time where we celebrate the birth of Jesus Christ, the King of kings and Lord of lords. But it doesn't take a genius to stop and observe that most people do not enjoy Christmas in the way it was intended. Or the way we pastors think it should be."
Sensing I was gaining momentum, I continued. "People are busy. Hurting. Even downright depressed. We need something to help prepare them to enter into this precious time. And that historically speaking was accomplished by observing Advent.  Here is why. Advent jars us out of our complacent attitudes and moves our focus off of buying, giving, and receiving gifts and refocuses our attention on the deeper meaning underneath the Christmas story, the fulfillment of the promised Messiah. Jesus did indeed come. Therefore, we can rely on his promise to come again."
They bought into the idea. And for the first time in the life of that church, they observed Advent .
The feedback was phenomenal. Quietly, people came up to me following our Advent services and whispered, "Thank you for bringing this into the church. I needed that."
Hope For Christ Return
My concern, then, remains today. Holiday shopping seasons can seem more like small battles rather than happy times of expectation and hope. For some folks the weeks following Thanksgiving can even be a time of depression, mourning the loss of loved ones, broken relationships, and past regrets.
Our society's response is simply to fill the empty void with gadgets, widgets, clothes or parties. But none of those things will satisfy. The retail shopping season associated with Christmas Day has left us spiritually bankrupt and in desperate need of the church to be obstinately different.
Consider this passage of scripture from the Bible's book of Isaiah.
He will judge disputes between nations;
he will settle cases for many peoples.
They will beat their swords into plowshares,
and their spears into pruning hooks.
Nations will not take up the sword against other nations,
and they will no longer train for war.
Here we see that magnificent vision of turning swords into plowshares and spears into pruning hooks (Isaiah 2:4). The poetic imagery is beautiful. Captured in this little phrase is the promised hope of no more violence, war, and death. Men and women will take their tools of death and turn them into instruments of life. (Note: Plowshares and Pruning Hooks are used to cultivate crops for food). All of this will occur on the Day of the Lord — the New Testament's promised return of Christ.
Real Hope This Season
The only thing that can help us our despair is turning to the two-thousand-year-old promise that Jesus will come again (Acts 1:11). And when he returns, the hope of Isaiah will be fulfilled. Peace will finally reign. Justice will finally be achieved.
What guarantee do we have that he will fulfill his promise? The answer is found in the Christmas story. The promise of the Lord was met in the baby Jesus. That is the point of Christmas. Longing for His promised return is the point of Advent. They work together.
The Lord has already made good on his promise once. And He will do it again.
So in this Advent season, whenever you find yourself caught in the seductive cultural pressure and "busyness" of the season, take a deep breath, repent, and quietly pray, "Maranatha," which means, come Lord Jesus.