3 Tips For Pastors Hiring a Virtual Assistant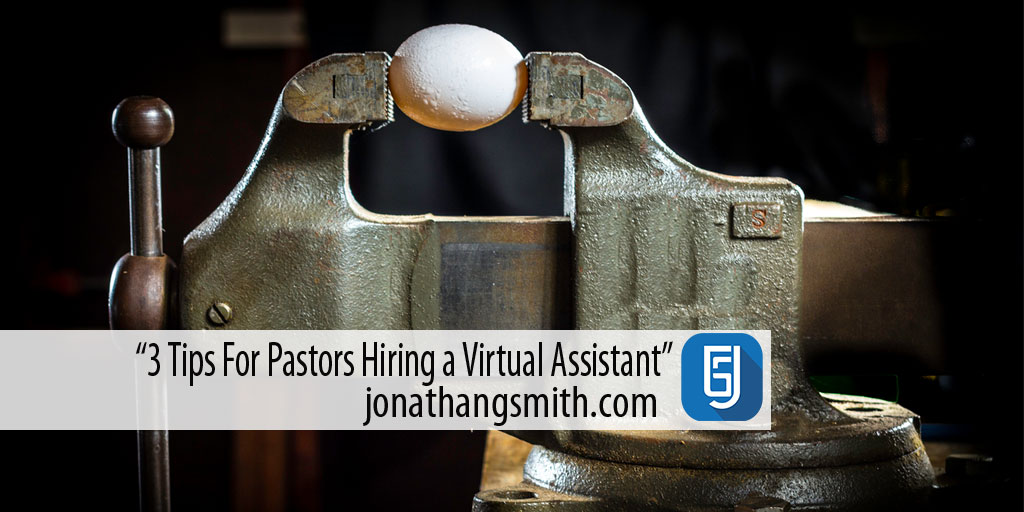 This week I've embarked on a new adventure, I've hired my very first virtual assistant. So here is a confession. I'm a work-a-holic. I mean I love to work and I love to create new processes, programs, and ideas. In fact, according to the strengths finder, "ideation" is my number one strength. The problem, sometimes my ideation runs me into the ground.
Lately, I've begun to see signs of burnout and I'm determined to stop it before its too late.  But when you are on a limited budget and really can't afford to add an additional staff member, where do you turn? After listening to some leadership gurus tout the merit of hiring Virtual Assistants, I took the plunge.
Confronting the Pastor
At first, I toyed with the idea for weeks.  Training an assistant seemed like a huge burden. My attitude changed after a meeting with a couple from my congregation.
I sat down with them to discuss some concerns they had about the direction I was going. To my surprise, one of their concerns rested in their perception that I was "doing too much" and "not delegating enough." The husband was even bold enough to call me a "one-man-show!"
At first I found myself recoiling just a bit and even feeling defensive; however, I muscled through that momentary "fight-or-flight" adrenaline surge because I knew he was right. Much to my surprise, I had become a one-man-show and it was leaving me too exhausted to focus on the most important tasks.
What they didn't know, was that I already had identified the problem and was looking for a solution. Their confrontation just simply sharpened my resolve.
At the same time, when I heard Cliff Ravenscraft talk about the differences between an entrepreneur and a solopreneur. The main difference being that a solopreneur works alone — doing all the work. Unfortunately, there is a cap on what the person can ultimately accomplish. When Cliff said those words, I realized that some of my dreams will never become a reality unless I figure out some way to begin to change.
Virtual Assistant Resources
Recognizing the need to figure out a way of delegating some of the tasks, I began to search for a Virtual Assistant to see if this would be a viable option. As it turns out, there are already boutique VA firms specializing in ministry, freelance virtual assistants, and generalized VA firms capable of supporting a wide range of industries. After interviewing and speaking with multiple groups, I can already see the immediate potential.
I ultimately chose to work with a freelance VA because of a unique cluster of specialized software skills.
Because I know so many pastors feel overwhelmed, here is a list of Virtual Assistant Firms and helpful training options if you are interested in learning more.
Virtual Assistant Podcast — I recommend starting here first. If you like listening to podcasts, then this is a definite must add to your playlist. Cliff Ravenscraft breaks down the industry for potential VA employers.
Ministry Architects and Ministry Assistant Services — Both offer competitive rates and have a knowledgeable staff ready to talk with you.
"Delegate Effectively in 21 Days" — This email course is sponsored by Contemporary Virtual Assistants. The content is so valuable because they break down the art of delegating in small bite size chunks. I subscribed to this and found it most helpful.