Remember the #1 Principle of Management…Total Depravity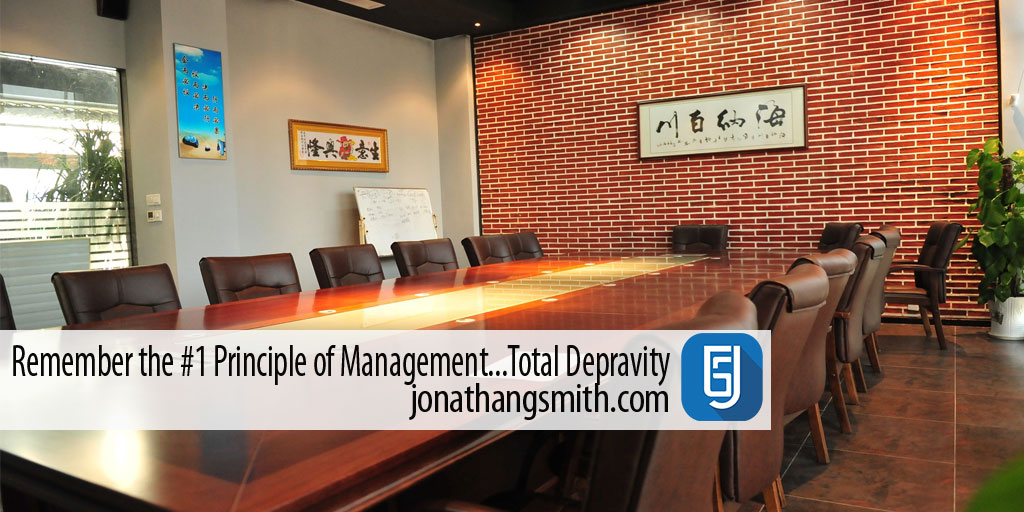 Have you ever worked on a project only to see it completely flop? Or have you spent countless hours preparing for a presentation — double, triple, and even quadruple checking to be certain that every detail is spot on – only to have it completely fall apart?
If this describes any situation in your life, then welcome to the cold hard reality of the #1 Principle of Management — Total Depravity. I want to show you how embracing this classic Chritian doctrine can help you make better sense out of your day to day life.
What is total depravity?
The term comes from a theological idea that was conceived during the Protestant Reformation. The reformers recognized that human beings demonstrated a significant problem, what the Bible calls sin — the primary corrupting agent in the entire universe[1].
Observing the cosmic effect of sin, Reformed Protestant theologians sought ways to describe the impact fully that this "problem" presented. Their solution, sin comprehensively and totally affected every aspect of life.
Borrowing from computer programming terms, one could say that Total Depravity is analogous to a form of "bad code," a computer virus that disrupts your life's operating system.
So no matter how well intentioned or thought out a new enterprise might be because it is dependent upon human beings for its execution, the sin-virus corrupts our endeavors.
The Apostle Paul expressed this idea in the following way:"So, I find the law that when I want to do good, evil is present with me"(Rom. 7:21).
Total…But not Absolute
It is important to recognize that total depravity does not mean absolute depravity. Theologian John M. Frame helpfully distinguishes between the words total and absolute. He writes,
The distinction between total and absolute is that the former does not mean that man is as bad as he can be, but only that all our thoughts, words, and deeds are affected by sin.[2]
Notice the all encompassing aspect of his description — thought, words, and deeds. Thoughts include our emotions, beliefs, and knowledge. Words encompass everything that flows from those emotions, beliefs, and knowledge. And deeds are how we respond to our words and others. Not everything we do is sinful, but indeed, every aspect of life is potentially affected. None of us are morally neutral.
Total Depravity in the Work Place
Within our regular everyday lives,  none of us think of ourselves as affected by sin. Although, perhaps we would each privately acknowledge our areas of struggle.
Within the marketplace, how many times has sin entered into a management discussion? No one takes this into consideration in corporate boardrooms, sales meetings, or business development meetings. Rather, most companies and organizations approach their operations as if people were morally indifferent — not possessing good or bad morals.
But countless times have we seen just the opposite. Corporate greed leading to stock market volatility. Politicians advancing causes for personal gain. Doctors who perform unnecessary surgeries. The list of examples could go on indefinitely. People will let you down, break your trust, and hurt you. Good ideas are lost because of poor execution, lack of preparation, and even procrastination.
The fact that we can make this observation is even affirmed by our cultural maxims — Murphy's Law, Drucker's Law, Second Law of Thermodynamics, The Law of Sin and Death, etc. In other words, we know that something is corrupt by acknowledging the persistent presence of chaos in our society.
 Applying the Gospel
Once you move past the inevitable despair, there is a benefit that comes naturally along with embracing our problems. The next time a person behaves poorly, or a project goes bust, instead of finding yourself paralyzed and mourning over the breakdown, you can make adjustments in your response and seek ways to bring reconciliation.
As painful as this sounds, embracing the teaching of scripture that there is a problem at work inside each one of us leads to a comprehensive understanding of the breadth and depth of the gospel. As Christians, we are to "work out our salvation" by understanding the far-reaching implications of Jesus redemptive work.
We must embrace that our view of Jesus redemptive gospel is directly proportional to the depths of brokenness it sought to address.  Only when we see this correlation, will we understand our role to be salt and light in the world!
Question For You to Consider:
Think about the various failures in your life, whether moral or behavioral. How does the #1 principle of management inform your view of that problem now?  How does the gospel potentially solve the problem?

[1] Paul J. Achtemeier, Harper & Row and Society of Biblical Literature, Harper's Bible Dictionary (San Francisco: Harper & Row, 1985), 955.
[2] John M. Frame, Systematic Theology: An Introduction to Christian Belief (Phillipsburg, NJ: P&R Publishing, 2013), 865–866.