Why I Still Consider Myself a Calvinist, Part 1 – A Journey In Grace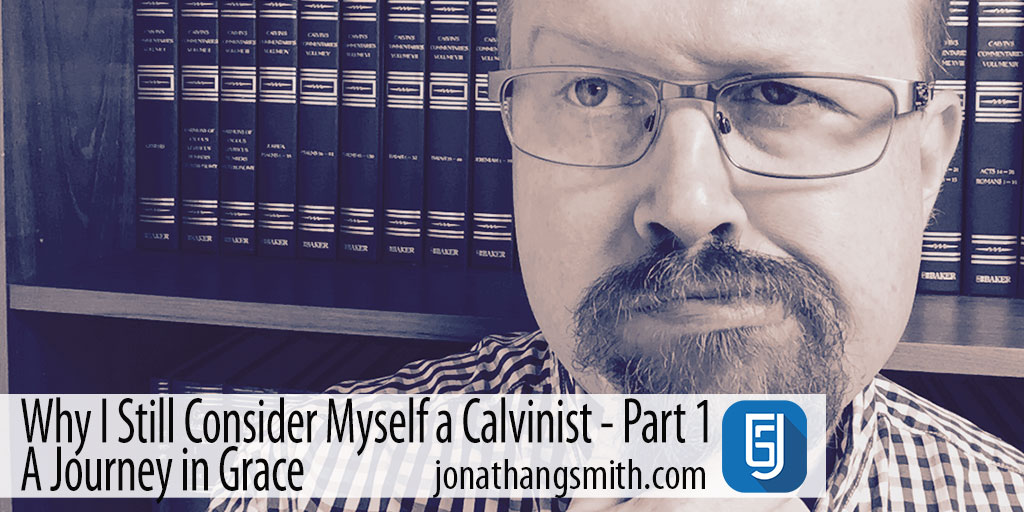 Recently, it seems like "Calvinism" is going out of fashion.  Reformed theology seems to still be in vogue. But it seems like followers of Calvin seem to be in retreat. I think that's a shame because if we lose Calvin, then we lose a lot.  So I thought I would share my story why I'm just not ready to let it go of good ole' Calvin.
Over the last two decades, a resurgence of Reformed theology has captured an entire generation. The phrase that encapsulated this group was young, restless and reformed! An article appeared in Christianity Today in 2006 writing about this movement. I know, because I was a part of it.  At times it's been thrilling. At other times, it has been deeply painful.  But in the end, it has brought an entire generation into the halls of countless seminaries.
Thinking about this movement, I have recently paused to reflect on a question: What is it about Calvinism that has been so attractive, particularly to young men? To best answer this question, I want to share my journey into Calvinistic theology and why it's deeply personal.  I'm going to do this over several posts because it's just too long for just one.
An Intellectual Conversion
It started while I was in college. To make extra money, worked for a small Reformed Baptist Church as a worship leader. While there, the pastor introduced me to Richard P. Belcher's book, A Journey in Grace.
The story was a fictional account of a young man introduced to the basic's of Reformed teaching through the familiar acronym TULIP. The conversational style of his work introduced me to the concepts of God's grace.  Up to that point, I had never been exposed to theological thinking, particularly at that level and I was intrigued by Belcher's argument.
The exposure to Belcher's book never left me. From that point, I began to listen to sermons by Reformed pastors, started attending a Reformed Church (R.C. Sproul's congregation), and listening to Reformed radio programs. I had never heard preaching quite like it.
One evening on my way home, while listening to a Christian radio station, I happened to tune into Hank Hanegraaff's show, "The Bible Answer Man" featuring an interview with Nancy Pearcey. At that time, she had just released her new book, Total Truth: Liberating Christianity From Its Cultural Captivity. That moment changed my life.
Inspired by Dutch Reformed Calvinism and Francis Schaeffer, Pearcey began talking about the great heritage of Christian intellectual thought. She gave compelling reasons why the Christian faith was robust, capable of providing real answers to challenging questions. She even detailed how she had experienced her intellectual conversion. I was fascinated by her.
Through her work, I was introduced to serious Christian scholarship. I was a new believer, experiencing genuine conversion. In many ways, I experienced a Wesleyan moment as my own heart became strangely warm. My faith came alive and for the first time, I was no longer afraid of being a Christian. I became zealous because I finally felt confident Christianity could stand up agains the fiercest attacks.
So that's where I think most young guys land.  In many ways, it's like discovering an entirely new outlook on life. Instead of being a anti-intellectual fundamentalist religion, Christianity was capable of speaking into life's most challenging concerns.
Compassionate and Calvinist
Today, I have a greater understanding of Reformed theology and the deep rich heritage associated with that stream. I no longer identify myself just as a "Calvinist" because I realize that there is far more to Reformed theology than just Calvin's Institutes. Yet, I'm ready to call myself a Calvinist in any conversation.  Why?  Because the people who have inspired me the most were never afraid of that term.
Calvinism has taken a bad rap over the years because of the hardness it often elicits in new converts. I am just as guilty. In fact, let me just repent of this sin now.
New "Calvinist" really are obnoxious! Let me just suggest that you cut them some slack. It just so happens there is a name for this condition. It's called "Cage Stage" Calvinism. Check out adam4d.com for a funny cartoon featuring the subject. You can buy a t-shirt here. I was no different. Gratefully, my time spent among Wesleyans tamed me a bit.
So what keeps me at the Calvinist table? I love this Calvinist view of God — a loving, sovereign God, who transforms lost broken people into His redeemed beloved children. That's a vision worth hanging on too despite its tendency from time to time to turn our weirdo zealots. There is far more to it than just this statement; however, I think it the best place to start.