Why I Still Consider Myself A Calvinist Part 3 – Hyper-Calvinism and Grace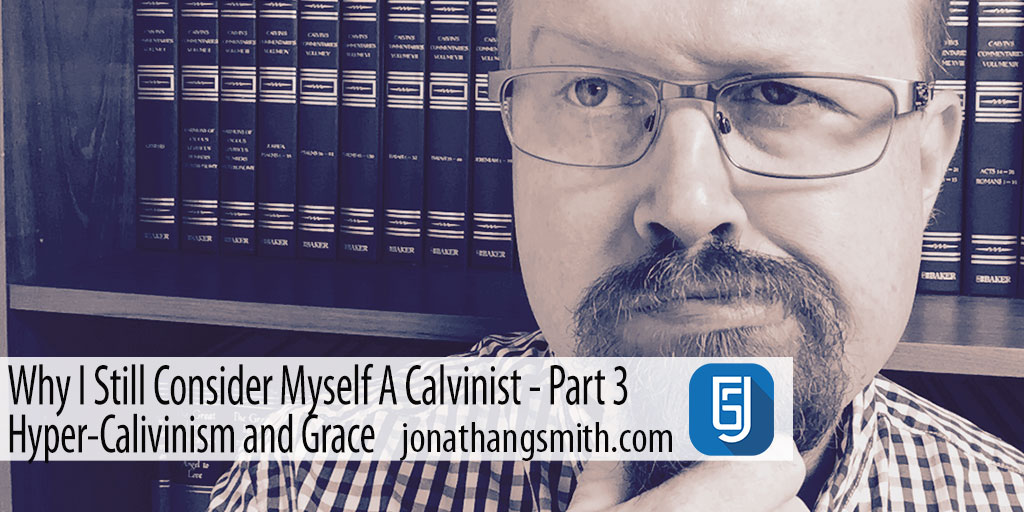 Changing your theological convictions is hard. Changing your underlying mindset created by religious beliefs is even harder. When I moved into the Calvinist camp, I brought with me all of my fundamentalist assumptions. That landed me right into Hyper-Calvinism.
This post is part 3 of my series, "Why I Still Consider Myself A Calvinist." Here is a link to all of the posts.
Born Again Calvinist
After I gave my life to John Calvin (tongue-in-cheek), I immediately searched around for a church grounded in Reformed Theology. Admittedly, due to my ignorance, my options were precious few. So I began to search for a church and discovered a congregation not too far from my home. My wife and I broke ties with our church and started going to this new congregation.
Upon entering the doors of their magnificent building, I was immediately taken by the atmosphere. The culture was unlike anything I had ever experienced.
The bulletin contained a liturgy, a script as it were, for the entire service. Beautiful paintings of Christ's passion hung on the walls. As you walked into the sanctuary, the eyes were carried up to a beautiful stained-glass rose window portraying the transcendence of the triune God.
The music was classic, formal, and reverent. There were no screen, no drums, no guitars and no song leader. Nothing about the experience resonated with most typical evangelical churches. They were a high church. They had a string quartet, organ, and choir. The preaching was the very best of biblical and theological teaching. In every way, you could tell the congregation was "serious" about their worship of God.
At first, I thought I had died and gone to Reformed heaven. Here was the height of Reformed orthodoxy, so I figured. But not all was well in Geneva.
Fundamentalism and Hyper-Calvinism
What my wife and I had stumbled upon was a stream best described as hyper-Calvinism. Definitions vary on what exactly defines "hyper-Calvinism." My definition is simple. Hyper-Calvinism is fundamentalist Calvinism. In the attempt to emphasize the transcendent sovereignty of God, the hyper-Calvinist crushes the human spirit by stressing the unconditionality of God's sovereign decrees. Human responsibility isn't merely minimized but altogether obliterated under the crushing weight of philosophic determinism lying just beneath the hyper-Calvinist mindset (if you don't fully understand this statement just think of a child who says, "he made me do it").
Along with this form of Reformed Theology came a view of women that was even lower — hyper-complementarianism. Generally speaking, hyper-Calvinism accompanies hyper-complementarianism — stressing the differences over the similarities in gender.
Here is an example. If a woman were to mention a passage of scripture within a casual conversation with a man and apply it to a situation in the man's life, has she taught the man and broken God's Word? Such a view arises from St. Paul's instruction where he says, "I do not permit a woman to teach and have authority over a man" (I Tim. 2:8-15).
I questioned their interpretation and application of this passage.
Liberty and Grace
One morning, as I awoke and began prayer for the day, I realized something was gnawing at me. There was a callousness developing in my soul. My perspective was changing. My passion was draining. And I sensed a profound distance between myself and God. He was no longer a loving Father but a distant power, devoid of any personal relationship.
Frankly, it was awful. I prayed.
As I meditated, slowly the Lord opened my eyes and I came to this conclusion. "I didn't like the kind of Christian I had become." There was a growing sense in my heart that the stream of Christianity that was being taught didn't necessarily reflect the heart of God. Because of the level of the teaching was so high, I felt reluctant to question what  was being taught.
However, as my wife and I continued to attend I finally came to this conclusion.
I could not see myself raising my daughter in that environment. And so for the second time in my life, I walked away.
There have been many miles traveled since then and now. As I look back at my journey, I realized that much of my underlining problem has not been wrestling with various theological systems, but instead, wrestling with the implications of God's grace.
My legalistic mind just couldn't fathom the freedom of God's salvation through faith in Jesus. So it wasn't until I began to wrestle through the implication of God's grace in the gift of salvation where I began to understand the liberty he grants through faith (Luke 4:17-21).