Giving Thanks For The Pilgrims Witness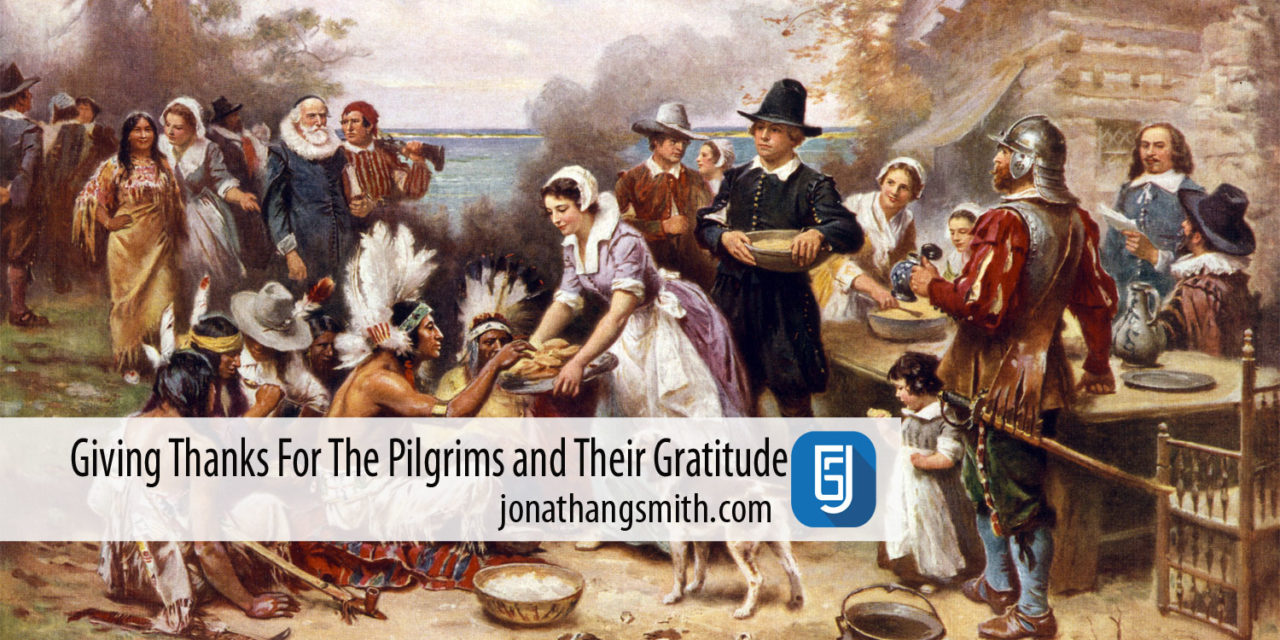 How do we cultivate gratitude in the midst of America's troubles? Just under 400 years ago, a small group of English Pilgrims paused to give thanks to God for all the provisions they had enjoyed in the New World. But it wasn't easy. And they had every reason to be bitter.
 The Pilgrims First Year
The first English Pilgrims immigrated to the New World seeking sanctuary from English religious persecution. Then, like today, religious division and strife troubled the Christian church. With the newly discovered American continent, English Pilgrims hoped to escape the oppression and conflict to worship God according to their heartfelt convictions.
So in September 1620, roughly one hundred men, women, and children embarked upon a voyage to settle in new lands, hoping to worship free from persecution. In 1621, they landed at Plymouth Rock to the beginning of a cold and severe winter season. Do to poor nutrition, and lack of sufficient shelter, roughly half of the original settlers died that season.
Imagine the despair that must have ravaged their moods as they faced the difficult winter season. As friends and loved ones began to pass, the cold, bitter days and nights must have felt like an eternity. There is no question that such circumstances would have shaken any person's faith. Somehow and in some way, these Pilgrims forged on, establishing a community in the North East. A year later they would sow the seeds of a holiday tradition that we celebrate today.
The Secret To Their Faith
So what was their secret? How could they have celebrated in light of such loss?
There is no way to know everyone's heart at that first Thanksgiving meal. But we can look at the source of their thankfulness through the lens of their faith. No doubt during those bitterly cold months, they would have read their bibles. They most certainly would have drawn comfort from the words of David when he wrote, Though, I walk in the midst of trouble, you preserve my life, (Ps. 138:7a). They would have been encouraged by his constant reminder of God's steadfast love and faithfulness.
You see, the Pilgrims understood something that we today often forget. God never promises that we will be free from the hardships of life — even death itself. But he does promise always to be by our sides, even through life's most challenging problems.
How do we know this to be true? The answer to that question is in David's phrase steadfast love. Underneath the English words is the Hebrew word hesed, which carries with it the idea of covenantal faithfulness. In other words, God's love is rooted in his promise to rescue us, ultimately, from eternal death caused by sin.
Even though the Pilgrims were surrounded by bitter, bone-chilling winds, lack of food, and the absence of adequate warmth, they knew that those hardships were nothing compared to eternal death that comes from rejecting Jesus Christ.
So while they experienced tremendous adversity that first season, they undoubtedly kept the bigger picture in mind — the freedom to proclaim the gospel of Jesus Christ.
Crafting The Pilgrims Heart of Gratitude
When the crops finally came in and hunting game proved plentiful, the contrast between what they had experienced and the fruit of the labor must have been a cause for celebration. That first Thanksgiving feast must have been out of a profound sense of gratitude for all that been accomplished.
And this, I believe, is the secret behind Thanksgiving. The Pilgrims had experienced such hardship in a compressed amount of time, that even a modest harvest would have given cause to celebrate.
James 1:2 says, Count it all joy…when you meet trials… for you know that the testing of your faith produces steadfastness. So trials, hardships, and even loss are designed to foster in us our gratitude for all of the provisions God has given us.
So this Thanksgiving season, let us first look back at those Pilgrims and give thanks to them for their model of gratitude. Their actions have given us a reason to hope and give thanks. And second, let us pause in gratitude and given thanks to God the Father for all that he has given us. And most of all, let us be thankful for the precious gift of Jesus Christ, our Savior who saved us from eternal death that we may have life!